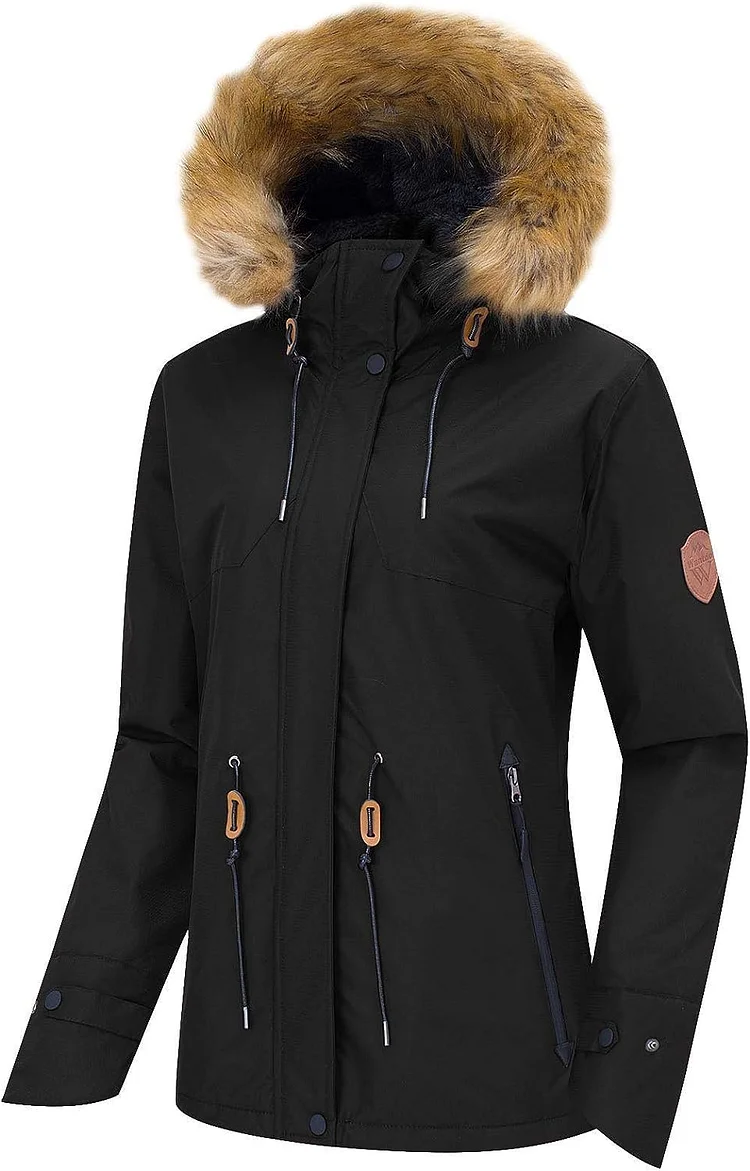 100% 150D Dull Mechanical Elastic Fabric.

Machine wash and recommended hand wash

Waterproof Protection - Choose a ski jacket for women that is designed to withstand rainy, snowy, and foggy weather. With a waterproof rating of 10,000mm, this women's winter coat will keep you completely dry. Additionally, the jacket features a PU membrane that prevents water from seeping through, so you won't end up getting soaked underneath.

Protect Yourself from Raging Winds - Enjoy the great outdoors while staying protected from chilly winds with this women's windproof jacket. It comes with a detachable hood, windproof cuffs, and an adjustable internal windproof snow skirt that keeps you warm and comfortable, shielding you from icy gusts of wind.

Stay Warm & Cozy - Whether you're facing chilly, cold, or snowy winters, this women's ski jacket has got you covered. The premium insulation padding provides excellent warmth, allowing you to enjoy any outdoor activities even in extremely low temperatures. Stay comfortable throughout the day with this winter coat, designed to keep you warm and cozy no matter the weather conditions.

Carry Your Essentials with Ease -Many women dream of finding a winter jacket with functional pockets that are actually usable. Designed for convenience, this winter coat for women has 4 spacious pockets, allowing you to safely carry your wallet, phone, keys, and other essentials when you're out and about. With this jacket, you'll have everything you need at your fingertips.

Reliable Outerwear: Stay protected on all your adventures, no matter where they take you. Whether you're skiing, snowboarding, hiking, traveling, or venturing out into the rain or snow, this hooded ski jacket with fleece jacket has got you covered. With its durable and functional waterproof design, it's the perfect choice for reliable outerwear. It comes in a range of sizes and colors for a personalized fit, so you can find the one that suits you best.
About Us
Our mission is to build products that are essential for active performance wear users. We aim to create versatile products that can be worn in various conditions, whether it's hiking in the mountains or strolling around town. By designing active performance wear with features such as waterproofing, stain repellency, fast-drying capabilities, and warmth, Wantdo becomes an indispensable part of our customers' daily lives.
Waterproof ski jacket

Warm & comfortable winter coat

Multi-pocket Skiing Jacket

Snowboarding jacket with detachable hood

Snowboard jacket with snow skirt
Get a Wantdo waterproof ski jacket for women, ready for the beautiful ski season
When participating in extreme sports or facing harsh weather conditions, it is essential to invest in a suitable women's snowboarding jacket for both safety and comfort. Wearing the ideal skiing jacket for women will not only protect your skin from coming into contact with snow but also helps you enjoy your outdoor activities even more. This winter coat for women is perfect for snowboarding, downhill, cross-country skiing, or motorcycle riding.
Got this for skiing!
The professional waterproof coating seamlessly integrates with snow and sweat, keeping you warm and dry throughout your day on the slopes.

The snow jacket features adjustable drawstrings at the hem and hood, allowing you to adjust the fit to your liking.

The adjustable cuffs feature a unique design that prevents snow from entering your gloves and sleeves, keeping your hands warmer and drier.

This snowboarding jacket features a convenient drawstring that allows for easy zipper pulling, even when wearing gloves during the winter season.
Variety of sample colors
Our snowboarding jackets for women are available in a range of colors, giving you the option to choose a style that is both practical and fashionable.
Storm flap
This women's windproof jacket provides optimal warmth, with the zipper and storm flap design preventing wind from entering through the zipper.
Fleece-lined Collar
The standing collar of this warm winter jacket for women is made of fleece material, which is soft and comfortable, providing warm protection to the neck. It also helps to further shield the neck from cold winds and snow.
Unique Design for Our Customers from Wantdo
- This waterproof jacket for women provides maximum cold weather protection, with its unique design of elastic cuffs and adjustable cuffs.
- This women's skiing jacket features a convenient drawstring that allows for easy zipper pulling, even when wearing gloves during the winter season
- Stay warm and comfortable all winter long with this women's warm winter coat, featuring a detachable hood, convenient internal pockets, and adjustable cords, including drawstrings at the bottom and around the hood for a personalized fit.
Wantdo Women's Ski Jacket Collection C31
Keep the warm in and the cold out! Keep you warm and dry in the cold weather.
Stay Warm and Cozy
This women's winter jacket is designed with a cotton lining that provides excellent insulation for outdoor activities. The premium warm insulation padding effectively traps the heat generated by your body inside the snow jacket, allowing you to stay warm even in freezing temperatures.
Breathable for High-intensity
This snowboard jacket for women is designed to be highly breathable, which means that it allows for the easy movement of air in and out of the jacket. This feature is important because it helps to regulate your body temperature and prevent overheating during high-intensity activities such as skiing or snowboarding.
Advanced Waterproof Technology
This women's skiing jacket is tailored with professional waterproof fabric and coating, ensuring that no moisture gets past the jacket. When combined with the jacket's high breathability, it helps keep you dry and comfortable during skiing or other outdoor activities.
All-purpose outdoor jacket
The Wantdo snowboarding jacket for women is perfect for activities such as skiing, hiking, or camping, providing reliable warmth and protection from the elements.
Notes:
- Staying dry and comfortable during cold and snowy winters is made possible with the waterproof and windproof features of this ski jacket from Wantdo.
- The women's snow jacket by Wantdo is an ideal option for winter outdoor activities and daily commutes.
- This waterproof ski jacket for women makes for an excellent gifting option during the holiday season for your family and loved ones.
Go Ahead! Got This Wantdo 3 in 1 Ski Jacket for Women as Your Everyday Coat!